MOSCOW (Sputnik) — Vladimir Putin commended on Friday the work carried out by Russia's Federal Security Service in countering terrorism in Syria and at home.
"First of all, I would like to thank you, all those working in the federal directorate, the territorial directorates and the special directorates for your competent actions in providing the security that ensures Russia's stable development. This includes those of our colleagues that are working in the area of military counterintelligence, meaning that they support operations conducted by our pilots in the course of the counter-terrorist operation in Syria, as well as the counter-terrorist units working inside the country [Russia]," Putin said during a meeting with members of the FSB.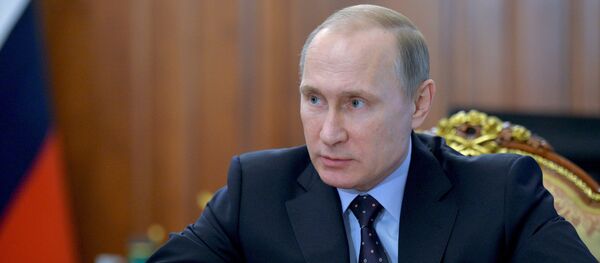 26 February 2016, 11:29 GMT
Syria has been mired in civil war since 2011, with government forces loyal to President Bashar Assad fighting against numerous opposition factions, including the Western-backed "moderate opposition," and extremist groups, such as Islamic State (IS), which is banned in a range of countries including Russia and the United States.
Russia has been assisting the Syrian forces in their anti-terror campaign, conducting airstrikes against IS targets in Syria at the request of Assad since late September 2015.
Russia, like other countries around the world, has been exposed to the risk of becoming a potential recruiting ground for radical Islamist networks. The Russian Interior Ministry said last December that up to 2,000 Russian nationals were estimated to be involved in IS-related military activities.
The FSB has been active in countering terrorist activities inside Russia. In December, Putin stated that the FSB had prevented over 30 terror-related crimes in 2015.