Billionaire real estate mogul Donald Trump's first and boldest claim was that, if elected president, he would construct a "big, beautiful, powerful wall," that he considered would be an effective detriment to illegal immigration.
"It's not even a difficult project if you know what you're doing," he declared in an interview last summer.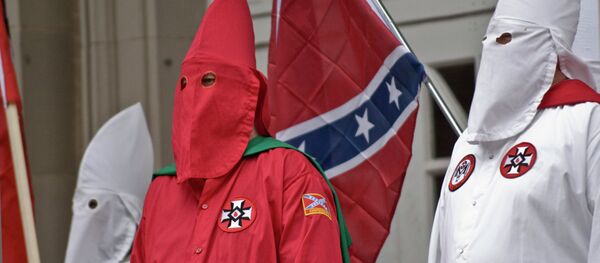 25 February 2016, 21:05 GMT
Engineers are more skeptical. Creating a wall across 2,000 miles of terrain would cost billions of dollars.
But not to worry! According to The Donald, all costs will be covered by the Mexican government, which he would strong-arm into footing the bill.
In an interview with Jorge Ramos on Fusion, however, former Mexican president Vicente Fox indicated that Trump may face implacable opposition to that offer.
"I'm not going to pay for that f***cking wall! He should pay for it. He's got the money," Fox said.
"…Democracy cannot take that, crazy people that don't know what is going on in the world today," Fox said.
© RIA Novosti . Iliya Pitalev
 / Go to the mediabank
Mexican President Vicente Fox Quesada arrives in St. Petersburg
Mexican President Vicente Fox Quesada arrives in St. Petersburg
© RIA Novosti . Iliya Pitalev
/
"This worries me, the last caucus in Nevada…he won 44% of Hispanics. I'd like to know who those Hispanics are, because they are followers of a false prophet. He's going to take them to the desert, and if they think that they will benefit with an administration led by Donald Trump, they're wrong. They must open their eyes. Please, you Hispanics in the US, open your eyes."
Fox also stated that Trump is not a true representative of either of the two main US political parties.
"What is Trump? He's not a Republican. Absolutely not. Those are not the Republican principles. He is not a Democrat. He is just himself. He is egocentric."
True to form, the billionaire quickly responded to Fox's comments, whining that the former president's use of the "F word" was an outrage.
It's hard to imagine that the former reality tv star, who has based his entire political campaign on flaunting political correctness, is offended by a word. Trump has called Fox News host Megyn Kelly a "bimbo," referred to a number of women as "dogs," regularly calls opponents "losers," and just two weeks ago called Republican Ted Cruz a "p*ssy."
This was mere days after Trump told a New Hampshire rally crowd that American businesses that move to Mexico can "go f**k themselves."
Fox is the second former Mexican president this month to sharply criticize Trump. During an earlier interview with CNBC, Felipe Calderon expressed a similar sentiment.
"Mexican people, we are not going to pay any single cent for such a stupid wall," he said, adding that, "…it's going to be completely useless."