"The Russian Federation has completely stopped attacks in the 'green zone', which means on those areas and armed groups who applied to join the ceasefire [in Syria]," Rudskoi told journalists.
​
Russian aircraft are not conducting any missions today, Chief of the Main Operational Directorate of the General Staff Sergei Rudskoi said.
#SYRIA To exclude possible mistakes during strikes, today, on Feb.27, Rus aviation is not performing flights over the territory of Syria

— Минобороны России (@mod_russia) February 27, 2016
​"In accordance with the UN resolution in support of the Russian-US agreement on ceasefire, and in order to avoid any potential mistakes during airstrikes, Russian aircraft, including those of the long-range aviation, are not conduction any missions today, on February 27," Rudskoi said.
#SYRIA 17 armed formations which addressed to the #Hmeymim Command and signed application documents are also bound to respect the ceasefire

— Минобороны России (@mod_russia) February 27, 2016
​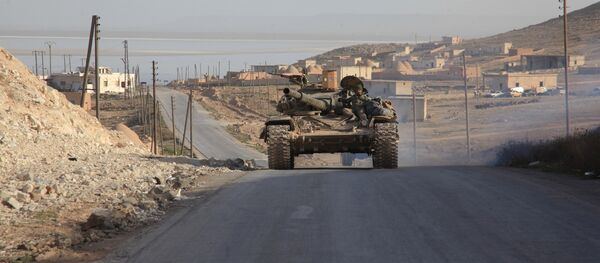 27 February 2016, 05:47 GMT
"Seventeen militant groups that contacted the Hmeymim airbase command have provided their signatures and confirmed that they will abide by the ceasefire agreement," Rudskoi said during a Defense Ministry briefing.
"First of all, the democratic forces of the Syrian Army under the command of armed groups including Al-Ghanim, "Iskanderon", "Sureym" and "Chelobiya," the "Desert Hawks" unit and others who continue fighting Daesh. Some of them act together with regular Syrian Army troops, and others pursue separate options," Rudskoi added.
He noted, that the Russian Defense Minister gave all the necessary instructions immediately after the Supreme Commander's order.
"On February 23, the Syrian side announced its readiness to stop hostilities in accordance with the Russian-American agreement," the Russian General Staff head said.
All the forces that truly have influence on the opposing sides of the Syrian conflict should make every effort to implement the ceasefire agreement, Sergey Rudskoi emphasizes.
"We have taken the first step towards the cessation of hostilities on Syrian soil. All the forces that truly have an impact on the respective sides of the conflict should make every effort to implement the ceasefire agreement which entered into force today. This will greatly support the establishment of lasting peace in Syria," he said Saturday.
Russia and the United States reached an agreement on the ceasefire in Syria on February 22. The ceasefire took effect at midnight on Saturday, Damascus time (22:00 GMT on Friday). The UN Security Council unanimously adopted a resolution endorsing the Russia-US agreement on the cessation of hostilities in Syria on Friday, shortly before the ceasefire came into force.
The cessation of hostilities does not apply to designated terrorist groups operating in Syria, including Daesh (ISIL/ISIS/Islamic State) and al-Nusra Front, a group affiliated with al-Qaeda.