DUBAI (Sputnik) – Two Syrian families in Syria's Raqqa province were killed in a US-led coalition airstrike, Arabic media reported Saturday, citing its sources.
According to Al Jazeera television channel, the coalition conducted the aerial attack in the town of Tell Abyad.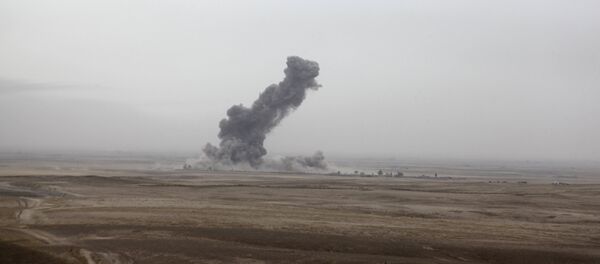 26 February 2016, 14:20 GMT
Tell Abyad is situated in the vicinity of the city of Raqqa, occupied by the Islamic State (ISIL or Daesh) jihadist group, outlawed in many countries, including Russia and the United States. Kurdish militants announced the liberation of Tell Abyad from Daesh in June last year.
The US-led international coalition has been conducting airstrikes against Daesh in Syria and Iraq since September 2014.
A ceasefire in Syria, agreed by Russia and the United States earlier this week, took effect at midnight on Saturday Damascus time (22:00 GMT on Friday), but it does not concern Daesh and Nusra Front extremists.