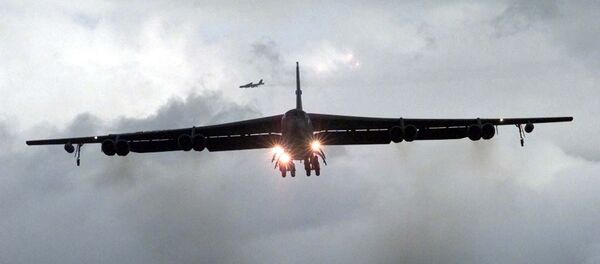 13 January 2016, 22:47 GMT
WASHINGTON (Sputnik) — Three US Air Force B-52 Stratofortress bombers based at Barksdale Air Force Base in the state of Louisiana have been redeployed to Moron Air Base, Spain, the US Strategic Command announced in a statement.
"The multi-role heavy bombers will integrate and train with US European Command components and regional allies and partners by participating in the Norwegian exercise Cold Response during this short-term deployment," the statement said on Friday.
The exercise is part of a build-up of US nuclear and regular forces in Europe that has been announced by the Obama administration.
Earlier this month, Defense Secretary Ashton carter announced that US military spending on Europe would be more than quadrupled from $689 million in fiscal year 2016 to $3.4 billion in fiscal year 2017.
Strategic Command chief Admiral Cecil Haney said the B-52 bombers provided a unique and complementary capability to the intercontinental ballistic missile as well as ballistic missile submarine legs of the US nuclear triad, which underpin America's capabilities for strategic deterrence.