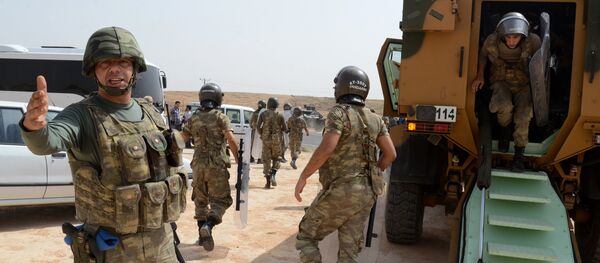 14 February 2016, 14:22 GMT
ANKARA (Sputnik) — One Turkish soldier was killed in clashes with the militants of the Kurdistan Workers' Party (PKK) in country's southeast, the Turkish General Staff said in a statement.
"On February 28, one soldier suffered severe wounds during the armed clashes between security services and militants of the separatist terrorist organization [PKK] in Sur [district of Turkish city of Diyarbakır]. The wounded soldier was immediately taken to hospital, but died despite the doctors' efforts," the statement said on Sunday.
The statement added that at least eight PKK militants were killed in the military operations in country's southeastern provinces.
Turkey's Kurdish-dominated southeast region has recently seen renewed violence between the Turkish government forces and the PKK since the mid-summer breakdown of a two-year peace process.
In July, Ankara initiated a military operation against the PKK in response to the escalation of attacks in southern Turkey.