MOSCOW (Sputnik) — According to the study conducted by US-based media measurement and analytics company comScore, RT's aggregate number of unique users for its websites and YouTube accounts stood at 49 million in November 2015 in terms of unique users, allowing RT to maintain its leading position among non-Anglo-Saxon broadcasters across the globe, surpassing several international TV news channels.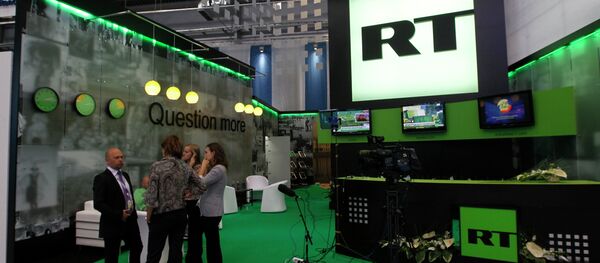 14 December 2015, 15:01 GMT
The study revealed that the United States accounted for the biggest share of the broadcaster's online audience in November, with 9.1 million people, or 19 percent of the total number of those who used RT's website, mobile apps or accessed its content on YouTube.
According to the study, the broadcaster's Spanish-language website surpassed CNN Spain, while its Arabic website is ahead of Sky News' Arabic site, as well overshadowing Deutsche Welle, the BBC and CNN services in this language.
RT's online content gets more hits than such news channels as Al Jazeera, Deutsche Welle and Sky News in the United States, and Al Jazeera, Euronews, Fox News and Voice of America in the United Kingdom.
RT is an international news network which broadcasts 24/7 in English, Spanish and Arabic. It has been nominated for three Emmy awards, and was the first news channel to get a billion views on YouTube.
On Wednesday, the channel's press service said the broadcaster had secured 13 finalist spots – surpassing CNN – at the prestigious international New York Festival's World's Best TV & Films competition.