Turkey's operations in Kurdish areas have turned into an all-out was with hundreds of dead, head of Turkey's Human Rights Association Öztürk Türkdoğan told Sputnik Turkiye.
The intensity of the violence reported by Türkdoğan can be compared to the opening months of the Syrian conflict in terms of both the scope of violence and civilian deaths reported by human rights bodies. Turkey's violence is somewhat more local when compared to Syria, although attacks on Turkish soldiers have taken place outside the restive Diyarbakir province.
"It is known that in Diyarbakir's Sur, the military is conducting an operation. That is, there is now a real war. Similarly, in Cizre, where, according to our estimates, the military has killed more than 200 civilians. The death toll among the civilian population in the area Sur already stands at about 100 people. In addition, about 130 people are injured and waiting to be saved," Türkdoğan told Sputnik Turkiye.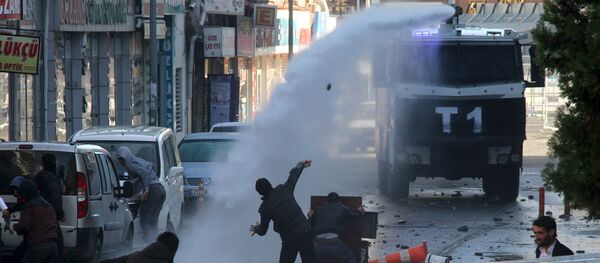 24 February 2016, 12:49 GMT
Turkey's operation against Kurdish activists in the country's southeast began on December 2, 2015, subjecting the region's people to a round-the-clock curfew declared by the governor, despite such a measure being illegal in Turkey, Türkdoğan said.
"With this in mind we can say that the curfew, is in fact the shell of a hidden war which is currently underway," Türkdoğan added.
Turkey is also considering relocating civilians living in the areas, which the residents oppose because that would make them de facto prisoners of war.