"The upgrade of the Tu-160 bomber is being carried out under the presidential decree. I think that by 2019, this modernized aircraft will start its flights," Bondarev said following the meeting on the development of Russian combat aircraft.
Deputy Defense Minister, Yuri Borisov, in February 2016, said that the work on the restoration of this aircraft includes a great amount of teamwork and collaboration.
The Tu-160 is a supersonic strategic bomber designed by Tupolev in the 1970s — 1980s.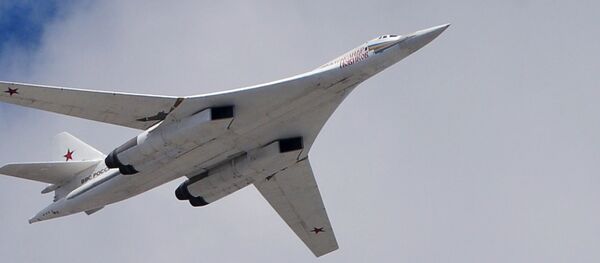 22 January 2016, 06:59 GMT
Although some civil and military transport aircraft are larger in overall dimensions, the Tu-160 is the world's largest
combat aircraft
to enter service.
It has been in service since 1987. It is the heaviest combat aircraft in the world; with the highest maximum take-off mass among the bombers.
The pilots have nicknamed the bomber Beliy Lebed (White Swan).
The first competition for a supersonic strategic heavy bomber was launched in the Soviet Union in 1967. In 1972, the Soviet Union started a new multi-mission bomber competition to create a new supersonic, variable-geometry heavy bomber with a maximum speed of Mach 2.3, in response to the US Air Force B-1 bomber project.
The Tupolev design, dubbed Aircraft 160M, with a lengthened blended wing layout and integrating some elements of the Tu-144, contested against the Myasishchev M-18 and the Sukhoi T-4 designs.
The Tu-160
© Photo : Ministry of defence of the Russian Federation
/
The modernized aircraft were accepted into Russian service after testing in late 2005. The improvement also combined the capacity to launch two new conventional versions of the long-range Kh-55 nuclear cruise missile—the Kh-101 and Kh-555.