ANKARA (Sputnik) — Boydak Holding established in 1957 includes companies operating in energy, chemical and textile industries, as well as in agriculture.
According to the Hurriyet newspaper, police detained company CEO Memduh Boydak, board members Erol Boydak and Murat Bozdag, as well as holding chairman Haci Boydak. Company searches are in progress.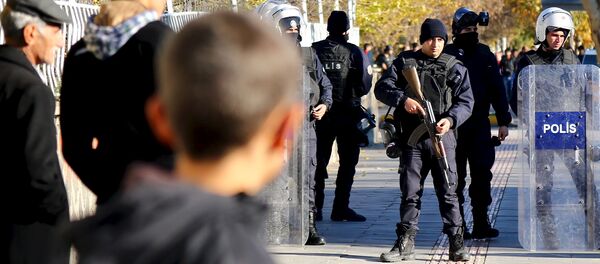 8 December 2015, 08:53 GMT
In 2014, Turkey opened an investigation into the "parallel state" organization, or, as Ankara calls it, the Gulenist Terror Organization, for allegedly seeking to overthrow the government, headed by President Recep Tayyip Erdogan.
In late December, Turkish media reported that the country's authorities had issued arrest warrants for 61 people in the parallel state case.
Ankara considers the Gulen Movement a threat to national security. An outspoken critic of the president, US-based cleric Gulen faces numerous charges including treason and extradition at home. Gulen has denied all the accusations.