MOSCOW (Sputnik) – The RT broadcaster's Middle East bureau chief was swept up in protests and subjected to tear gas over a government takeover of Turkey's Zaman opposition newspaper in Istanbul, the news channel reported Saturday. 
Clashes between free speech activists and police entered their second day after a Turkish court ordered Zaman to be placed under the management of government trustees, leading to the dismissal of Editor in Chief Abdulhamit Bilici on Saturday. 
Internet connection gone. Passwords do not work, our access to system is blocked. Thats what happens when govt seizes a newspaper.

— Abdullah Ayasun (@abyasun) 5 марта 2016 г.
"Suddenly police advanced and within moments the police started stampeding and throwing tear gas canisters. Everybody started running. I got caught up amongst a women's group and some of them went to a barber shop, where people are trying to recover, myself included," RT reporter Paula Slier said in a live broadcast.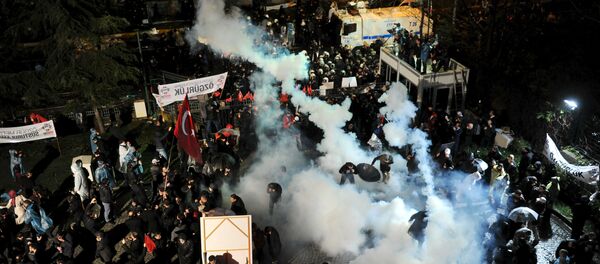 Injuries have been reported as police launched water cannons and fired rubber bullets at Zaman readers interpreting the latest court decision as a step to shut down one of the few opposition outlets left in Turkey.
The newspaper's Ankara journalist Emre Soncan told RIA Novosti he expected law enforcement to "throw us out like our colleagues in Istanbul."
Today's Zaman journalist Abdullah Bozkurt later tweeted that the paper's Ankara office lost access to company internal servers, prohibiting journalists from filing their reports.