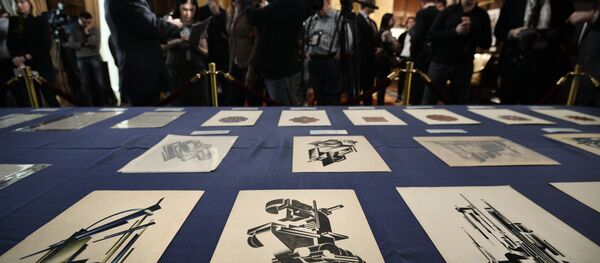 WASHINGTON (Sputnik), Anastasia Sheveleva
–
 The exhibition is in the United States for the second time; it first visited the country at UN headquarters in New York City in 2015 to celebrate the 80th anniversary of the pact's signing.
The growing interest to the Roerich Pact can be explained by the recent destruction of historical and cultural objects in the Middle East, Zhuravikhin said.
Over the past year, militants of the Islamic State jihadist group, banned in Russia, have seized, looted and destroyed several of the world's most important archaeological and cultural sites, including the ancient Syrian city of Palmyra.
"Amid the disturbing events in Iraq and Syria, the international community has faced difficulties in protecting sites of cultural heritage, UNESCO cannot fully safeguard these sites from destruction," Zhuravikhin stated. "People looked back at the past experience and found out that the Roerich Pact, adopted in 1935, is the only international treaty that calls for unconditional protection of cultural heritage."
He added that even the Hague Convention of 1954 that was based on the principles of the Roerich Pact has introduced the term of military necessity, in which case it becomes possible to bomb cultural objects.
"The Roerich Pact categorically denied such possibilities," Zhuravikhin stressed.
The International Center of the Roerichs brought more than 200 exhibits that include banners with Nicolas Roerich's sayings, photographs of documents, and copies of Roerich's pictures devoted to the pact and the protection of cultural heritage.
The exhibition is divided into several sections. The first section is dedicated to the origins of the Roerich Pact dating back to 1903-1904. Another section clarifies the symbol of the Banner of Peace, three red dots enclosed in a red circle on a white background.
"The Banner of Peace has the same meaning and function as the Red Cross flag that flies over hospitals and warns against bombing. Its second name is the Red Cross of Culture, and it is hung over cultural objects that cannot be bombed during war," Zhuravikhin explained.
"The ideas of the Roerich Pact are becoming increasingly popular. It is a universal treaty on effective protection of cultural heritage," the deputy director said. "We hope that the support for the Pact will only grow in the future."
The exhibition is open during the operating hours of the Russian Cultural Centre, but a prior appointment is needed, head of the center Oleg Zhiganov told Sputnik.
The International Center of the Roerichs plans to present the exhibition in Canada and other US cities in 2016.
The Roerich Pact was signed in the White House on April 15, 1935 by 21 countries in the presence of US President Franklin Roosevelt.