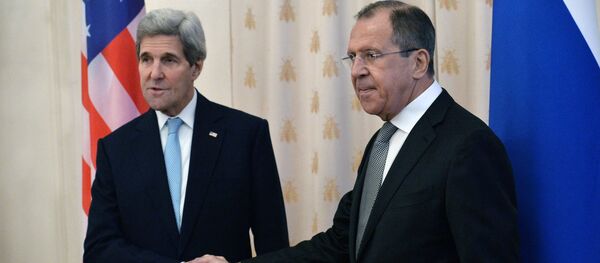 WASHINGTON (Sputnik) — The United States and Russia have been working in a constructive manner to solve the Syrian crisis, US Department of State spokesman Mark Toner told Sputnik on Monday.
"I think we are working very constructively with Russia, and with other members of the ISSG. But again, it's been challenging given the complex environment on the ground in Syria, but we are encouraged," Toner said.
The United States and Russia, co-chairs of the International Syria Support Group (ISSG), led the effort to broker a cessation of hostilities among the warring parties in Syria that took effect on February 27.
The international powers charged with monitoring the ceasefire maintain that it is largely holding, despite some violations.
Syria has been mired in civil war since 2011, with the Syrian military and other government forces loyal to the government of President Bashar Assad fighting numerous opposition Islamic factions and terrorist groups, including the Islamic State, or Daesh, and the Nusra Front.