MOSCOW (Sputnik) – Sharapova said on Monday she tested positive for meldonium, which her family doctor prescribed as Mildronate since 2006 to treat her health conditions. The World Anti-Doping Agency (WADA) added meldonium to the list of banned substances on January 1 after a year on its monitoring program.
"There is no evidence whatsoever that this was intentional on Maria's behalf," John Haggerty told The Daily Telegraph in a telephone interview.
Haggerti contended that a theoretical four-year maximum penalty could be cut by half based on that argument.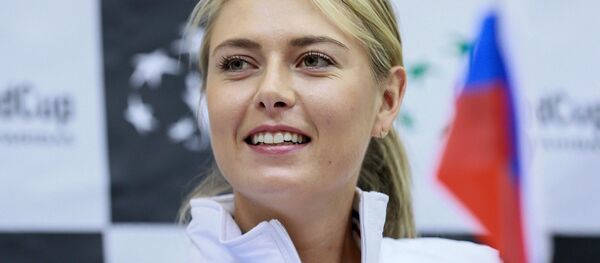 "I believe that there are substantial mitigating factors that require a further reduction from two years down to significantly below that," he stressed.
Asked whether Sharapova could have her penalty reduced under the Therapeutic Use Exemption (TUE), Haggerty said he was not allowed to discuss the issue, but added that "Maria and I are looking at all of her options."
"Maria's medical records, which will be presented to the ITF [International Tennis Federation], do make it clear that the medical treatment was necessary and recommended by her doctor. And the dosage Maria was taking was substantially less than any dosage that has been linked with the performance-enhancing attributes of mildronate," Haggerti stressed.
The counsel further sought to "disabuse" the notion that Sharapova used the substance daily for 10 years, suggesting that the dosage was limited to four to six weeks, two to three times a year.
ITF said it would provisionally suspend Sharapova on March 12, with a first hearing in her case reportedly scheduled to be held in London on March 23.
Russian figure skater Ekaterina Bobrova announced Monday she also had tested positive for meldonium. The following day, reports emerged that short-track speed-skater Semion Elistratov, speed skater Pavel Kulizhnikov and national volleyball team member Alexander Markin also had tested positive for meldonium.
WADA classifies meldonium as a metabolic modulator that increases athletes' endurance and shortens post-exercise rehabilitation time, as well as being shown to enhance the activation of central nervous system functions.