MOSCOW (Sputnik) — The US company Orbital Sciences Corporation will procure eight Russian-made RD-181 rocket engines, Russia's space and rocket engine company, Energomash, said Wednesday.
"Orbital Sciences Corporation decided to realize the option for the procurement of eight RD-181 liquid rocket engines from Energomash. The option is to be realized within a contract signed in 2014 on the RD-181 delivery for use in the first stages of the carrier rockets Antares [produced] by Orbital Corporation," the Energomash's statement reads.
The Russian manufacturer added that last month representatives of the US company visited Russia and highly estimated the quality management system in place at Energomash.
In 2015, Energomash delivered four such engines to the United States, according to the statement.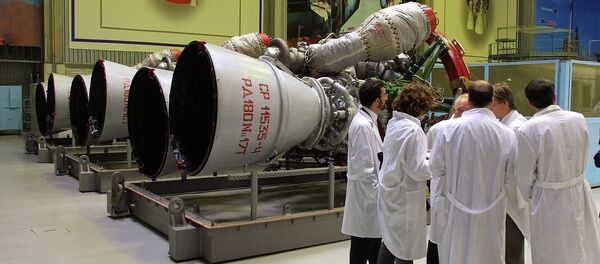 24 December 2015, 08:05 GMT
At the time of signing the contract worth around $1 billion in December 2014, Orbital said they had looked at several other propulsion providers but had decided to use the RD-181 engines because the Russia-designed engine offered "the best combination of schedule availability, technical performance and cost parameters as compared to other possible options."
The RD-181 deal is the second large-scale deal Energomash has made with a US company. In the late 1990s, the company won a contract with United Launch Alliance to supply RD-180 engines for Atlas rockets. This contract, also valued at about $1 billion, is still in place.
The US imposed sanctions on Russia on the pretext of the Donbass conflict and the purchase of the engines was prohibited; however, Washington had to remove them from the list as they proved indispensable for US space flights.