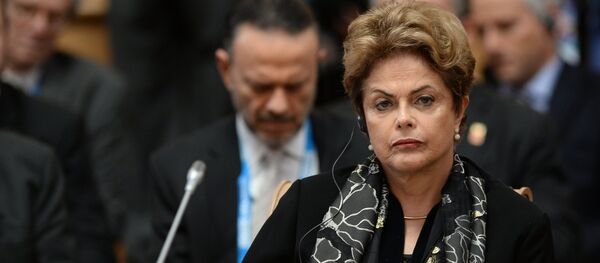 18 December 2015, 01:41 GMT
MOSCOW (Sputnik) — Brazil's leader has been facing rising discontent over the country's struggling economy and a major corruption scandal in the state-owned energy corporation Petrobras. Rousseff headed the company between 2003 and 2010, the period during which most of the corruption reportedly took place. On December 2, 2015, speaker of the lower house Eduardo Cunha launched impeachment proceedings against Rousseff, following an opposition-backed request, accusing the president of fiscal law violations.
"No one has the right to request the resignation of the president legitimately elected by the people…. I'm not a person who would resign," the president said, as quoted by the local Globo broadcaster.
The president also labelled the arrest warrant for former President Luiz Inacio Lula da Silva requested by prosecution on Thursday as "an act that goes beyond common sense."
Last week, police raided Lula's house and took him for questioning as part of a huge graft probe into the national oil company's Petrobras activities. Lula, who was in power from 2003 to 2010, was charged Wednesday with money laundering. The ex-president allegedly benefited from the kick-back scheme, which helped him become the owner of luxurious real estate objects.