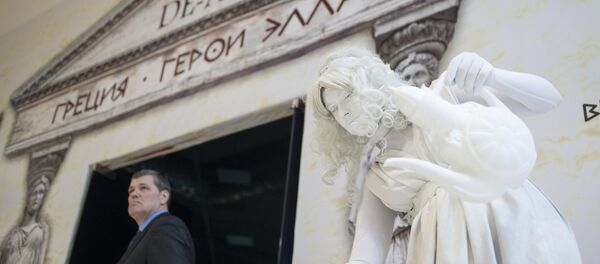 MOSCOW (Sputnik) — Earlier in the day, the two countries held an opening ceremony for Greece-Russia cross-cultural years in the Acropolis Museum in Athens, which resulted in the signing of the cross-year program.
"I think it will be the subject of discussion and upcoming negotiations, it will be discussed at high-level meetings, when Greek Prime Minister [Alexis Tsipras] and Russian President [Vladimir Putin] will meet. It is easy to introduce sanctions and then to get rid of them is quite difficult," Mikhail Shvydkoi said.
The Russian senior official added that Athens would raise the question of not including certain agricultural products in the food embargo introduced by Russia as a retaliatory measure on some products originating in states that imposed sanctions against it in August 2014.
The European Union and some other Western countries accused Moscow of fueling the 2014 Ukrainian crisis and imposed economic sanctions against it. Brussels decided to prolong until September 15 individual sanctions against citizens and companies in both Russia and Ukraine undermining the territorial integrity of the latter on Thursday.
The 2016 cross-cultural-year program includes three major exhibitions to be held in Russia, which will be devoted to the Byzantine Empire, the gods and heroes of Ancient Greece and modern works of art. The Acropolis Museum in Athens is currently hosting an exhibition of Scythian gold from the collection of Russia's State Hermitage.