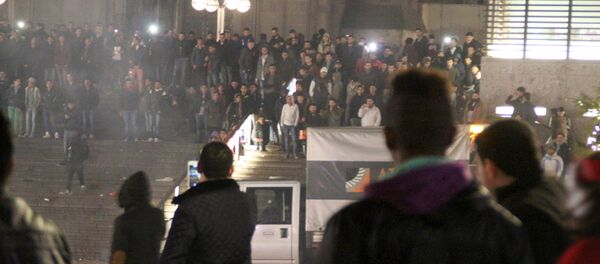 13 January 2016, 10:40 GMT
"Zanzu: My Body in Words and Images" provides advice in 13 languages, including
English
and Russian, on matters pertaining to the emotional, physiological and legal aspects of sexual relationships.
"How to engage in a sexual intercourse for the first time," "Sex during and after pregnancy," "How to discuss relationships with a partner," these are just a few useful tips Zanzu offers. It also contains video instructions on various kinds of sex, including homosexual. These are also available in paper form to those without Internet access.
Zanzu also teaches migrants how to spice up their sex life by varying sexual positions and reveals that porn can be used "to get sexually aroused."
The website warns that sexual violence – including sexual coercion, sexual abuse, and rape – are crimes, and those who commit them "can be severely punished for it."
The authorities argue that such an educational platform is needed as many of Germany's million-plus refugees have never received this information.
But the site has provoked a backlash both from the far-right parties, which dismiss it as a waste of taxpayers' money, and the migrants themselves angered by being viewed as uneducated savages.
Sex assaults were reported in European countries on New Year's Eve.
Hundreds of women in Cologne were reportedly robbed, threatened and sexually assaulted by small groups of aggressive men, allegedly mostly of Arab and North African origin. Several similar incidents were reported on the same day in Frankfurt, Dusseldorf and Berlin.
Same attacks were also reported in Finland, Belgium, Austria, Denmark and Sweden.
Europe is struggling to find a solution to the large refugee crisis, with hundreds of thousands of refugees fleeing conflict-torn countries in the Middle East and North Africa in search of safety and refuge in Europe.
The EU border agency Frontex detected over 1.55 million illegal border crossings in 2015.