NEW YORK (Sputnik) — US media is clouding American perception of Syria and Syrian President Bashar Assad, Syrian American Will Association (SAWA) secretary Khaldoun Makhoul told Sputnik on Sunday.
"Our media in the United States is terrible," Makhoul said on the sidelines of an anti-war rally in New York City. "We cannot say it is a free media, it is directed by this administration."
According to a January 2015 poll released by the Brookings Institute, 70 percent of US citizens are persuaded by the argument that Syrian President Assad is "as bad as ISIS" (Islamic State, Daesh) despite the fact that Assad won the Syrian presidential elections in 2014 with over 88 percent of the vote.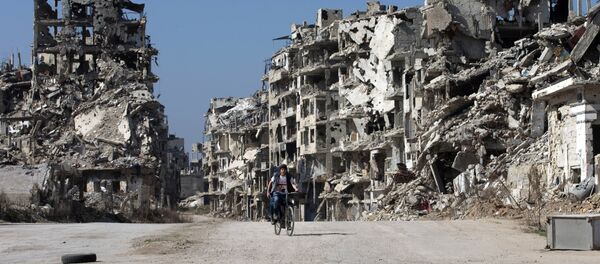 According to Makhoul, a Syrian native who moved to the United States in 1994, Assad's vast popularity inside Syria is widely ignored by the US media.
"If you look at Syria ten years ago and you look at what Syria is like now after [Assad] has been in power, Syria moved completely in different direction," Makhoul said at the NYC rally, which was attended by over a hundred of anti-war activists.
"They got their freedom, it's open, they have what they were missing before, so why would they vote against him?"
Syria has been mired in a civil war since 2011 as US-backed allegedly moderate Islamic opposition groups as well as terrorist organizations have fought the Syrian army in an attempt to topple the government of President Assad.