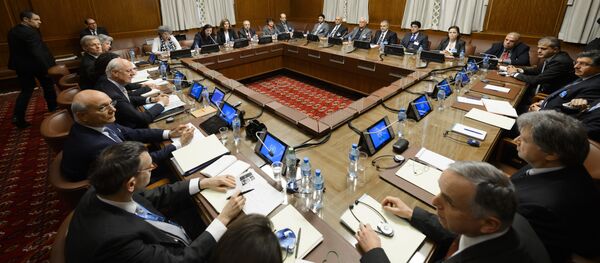 GENEVA (Sputnik), Anastasia Levchenko
–
UN Special Envoy for Syria Staffan de Mistura announced earlier in the day a start to "substantial" proximity talks in Geneva due to last until March 24. Kurdish representatives have not been invited, although a source close to the negotiations told Sputnik earlier in the day the Kurds would be invited toward the end of the current round.
"We believe that these talks again will not come to any solution without Kurds, as they are the main player who are liberating large areas from ISIS [Islamic State jihadist group]," Senam Mohamed said.
Syria's UN Ambassador and head of the government delegation at the talks Bashar Jaafari underscored after meeting de Mistura on Monday that ongoing talks needed a "wide representation" of opposition members.
Key stakeholders are divided over the invitation of Kurdish groups to the talks. Russia backs the move against Turkey's strong objection behind arguments that Syrian Kurds are allied with the Kurdistan Workers' Party (PKK), against which Ankara has been waging a campaign for nearly a year.
The United States, which together with Turkey considers the PKK a terrorist organization, is known to collaborate with the Kurds, including on construction of two air bases in northern Syria.
Mohamed argued in favor of Kurdish inclusion at the talks, citing its forces' critical role in battling the Islamic State (IS) jihadist group.
"Nobody until now asked us to participate, although we are a main part of the solution. Not even the democratic administration is invited," the European Representative of Rojava Administration stressed.
Kurdish forces gained mass media attention in early 2015 after successfully defending the city of Kobani from a months-long IS siege backed by US airstrikes.
Kurds are one of the largest ethnic groups in Syria. Participants of the peace process in the country, including Russia, have repeatedly stressed that reconciliation talks would fail to reach a political settlement unless the Syrian Kurds were allowed to participate.