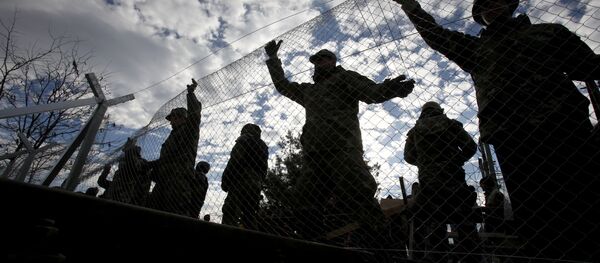 ATHENS (Sputnik)
–
Earlier in the day, a large group of refugees traveling through Greece was met by Macedonia's law enforcement personnel at the state border. Mecedonian Interior Ministry said that approximately 700 migrants who managed to cross over and the reporters accompanying them would be returned to Greece.
According to the Athens News Agency, whose photo reporter Yannis Kolesidis was among those arrested, the journalists were reportedly taken to the Greek village of Moi, from where they were sent to the police department in the town of Gevgelija.
According to the news agency, the journalists were not exactly aware of their location while following the refugees. Ten out of the arrested individuals were Greek, the media reported.
Over 2,000 migrants reportedly left the refugee camp in the Greek town of Idomeni near Macedonia earlier on Monday to find a spot on the border between the two countries where it would be possible to cross over.
The reports come after the closure of borders along the so-called Western Balkan migrant route, which has resulted in more than 10,000 refugees being stranded in Greece at its border with Macedonia.