MOSCOW (Sputnik) – US Senators Rob Portman and Chris Murphy introduced a new bill to the Senate on Wednesday to counter alleged Russian and Chinese propaganda.
"In order to improve our response to foreign propaganda and disinformation, we need a comprehensive strategy. We have to delegitimize false narratives coming out of Russia, China and other nations," Portman, a Republican senator from the state of Ohio, said in a speech at the Atlantic Council think-tank.
Murphy, a Democrat for Connecticut, contended that the United States was "too slow to adapt to the disinformation campaigns of our adversaries and competitors."
"Many nations today are bombarded by foreign propaganda and manipulated information. This disinformation is often intended specifically to undermine the United States, our allies, and interests," he argued.
The Countering Foreign Propaganda and Disinformation Act prioritizes three areas, including creating government agencies to "expose and counter" foreign propaganda, as well as engaging the private sector and local communities in the effort.
Portman contended that the efforts of Voice of America and Radio Free Europe/Radio Liberty (RFE/RL) – funded by the US government Broadcasting Board of Governors agency – "pales in comparison" to that of the broadcasters RT and CCTV, that he claims are state-owned.
"Even with more funding and resources, the success of US foreign broadcasting would be hindered without a coordinated, whole-of-government strategy," he stressed.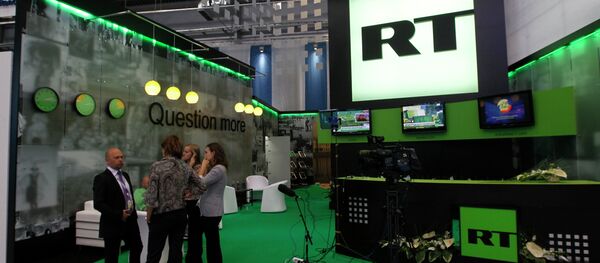 14 December 2015, 15:01 GMT
Last fall, the European Union's External Action Service launched a task force to counter perceived Russian propaganda. The North Atlantic Treaty Organization (NATO) maintains a section on its website claiming to "set the record straight" regarding
its eastern expansion toward Russian borders
that the alliance describes as "mythical."
Russia has maintained that Western and other foreign media outlets deliberately distort information regarding Russia, including its counterterrorist campaign in Syria, doping allegations in sports and many foreign policy initiatives.