MOSCOW (Sputnik) — Earlier in the day, FlyDubai Boeing 737-800 plane coming from Dubai crashed while attempting a landing amid poor weather conditions at the Rostov-on-Don Airport (ROV), leaving no survivors from those 62 people aboard.
"We monitor and analyze the performance of this massive fleet of CFM56 engines each day and we are not aware of any issues that would hazard the safe flight of 737 aircraft," CFM International spokesman Rick Kennedy said in a statement.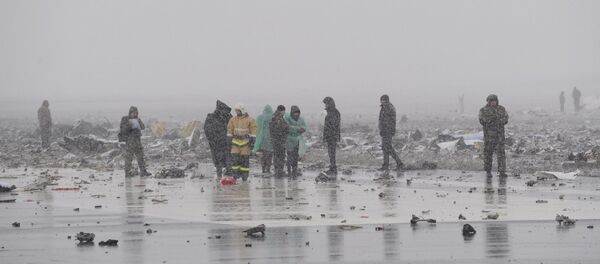 The Ohio-based company stressed that CFM56 engines powering the Boeing 737 were among the most reliable in the airline industry.
The engine designer offered to assist in the investigation into Saturday's crash of a Boeing 737-800 passenger plane in Rostov-on-Don, although it said that at this juncture no jet propulsion investigators had been requested to the scene by regulatory officials.
Investigators earlier found the crashed plane's first and second flight data recorders, and its first voice recorder.
The Investigative Committee presented three versions of the cause of the tragedy: a technical fault, severe weather conditions and human error.