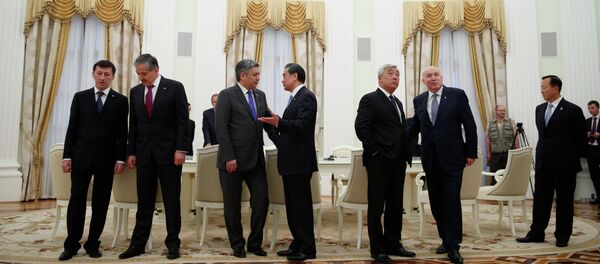 BEIJING (Sputnik)
–
Iran has every chance of becoming more involved in the activities of the Shanghai Cooperation Organization (SCO), Russian Ambassador to China Andrey Denisov told Sputnik.
"As for Iran, it has every reason to be a candidate for closer entry into the orbit of the activities of the Shanghai Cooperation Organization. In this case, I do not see any insurmountable obstacles in this process and do not believe that it is a matter of the very distant future," the ambassador said.
According to Denisov, Iran is quite a natural partner for the SCO member states for a wide range of reasons, from geography to trade and economics.
In January, the United Nations, the European Union and partially the United States lifted their sanctions against Iran after the International Atomic Energy Agency verified that Tehran was in compliance with the nuclear agreement reached in July 2015. In late February, Russian Presidential Envoy to the SCO Bakhtier Khakimov said the implementation of the Iran nuclear agreement eliminated any barriers to Iran joining the organization.
The SCO is a political, economic and military alliance founded in 2001 by Russia, China, Kazakhstan, Kyrgyzstan, Tajikistan and Uzbekistan. Iran, along with Belarus, Mongolia, Afghanistan, India and Pakistan, has observer status in the organization.