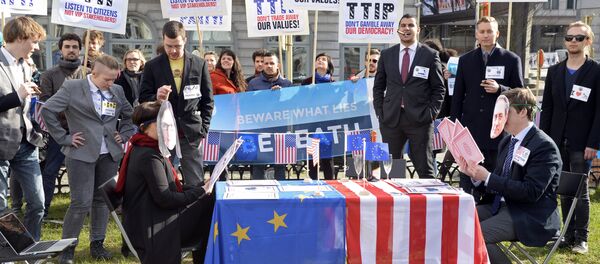 MOSCOW (Sputnik) — The EU proposal on Regulatory Cooperation within the planned Transatlantic Trade and Investment Partnership (TTIP) free trade deal between the United States and the European Union is a threat to democracy, a group of non-governmental organizations said in a joint statement Monday.
Earlier in the day, the TTIP-EU textual proposal for the chapter Regulatory Cooperation was made public and tabled for discussion with the United States.
"The undersigned organizations are writing to express our deep concern with the new EU proposal on horizontal regulatory cooperation (dated 21. March 2016) in the EU-US TTIP negotiations. We consider it a threat to democratic decision-making and regulation in the public interest," the statement from 45 organizations, published on the Corporate Europe Observatory website, read.
The statement warned that the proposal would allow big business groups to influence legislation.
"It implies an unacceptable power grab by the Commission, strengthens the US impact on EU regulation and weakens the role of the European Parliament," the statement continued.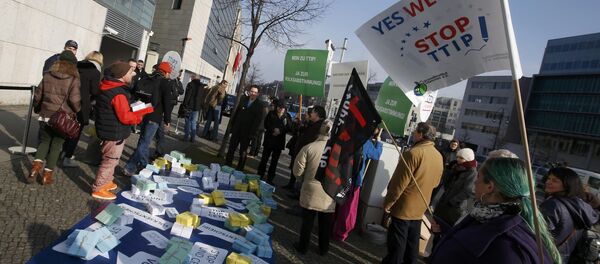 The proposal is seen as an "importation of elements of the US regulatory system" to the European Union, according to the statement.
The statement also warned of lack of balance between environmental and social issues and trade criteria in the proposal.
Negotiations on the TTIP agreement have been ongoing since 2013. A draft of the full text of the agreement is expected before the end of the year.
The TTIP deal drew criticism from the public for the lack of transparency in its negotiations and the power it would give to international corporations. It has also been slammed for bypassing the framework of the World Trade Organization and excluding BRICS countries.