MOSCOW (Sputnik) – Vladimir Putin has expressed his deepest condolences to the Belgian people: 
"President Putin has already sent condolences to King Philippe of Belgium in connection with the death of civilians in a series of explosions in Brussels," Peskov told reporters.
The prosecutor's office in Brussels confirmed that 13 people had been killed and 35 wounded in two suspected suicide blasts outside a Brussels Airport departure hall in the Zaventem commune.
"The President strongly condemned these barbaric crimes, expressed his condolences to the Belgian people and assured the Belgian people of the Russians' absolute solidarity with the Belgians in these difficult hours," Peskov added.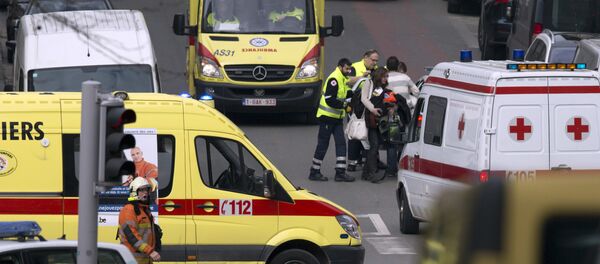 The Russian President is confident that those behind the series of deadly explosions in Brussels will be brought to justice, Kremlin spokesman Dmitry Peskov said Tuesday.
"The Russian President expressed confidence that the killers and their accomplices will be punished, and conveyed sympathy to the families and friends of the victims, as well as wishes of a quick recovery to all those injured," Kremlin told reporters.    
Thirteen people were confirmed to have died in two suicide blasts at the Brussels Airport in the Zaventem municipality that occurred early on Tuesday.    
The blasts in Brussels come just days after Salah Abdeslam, the mastermind behind the November Paris Attacks, was arrested in Belgium.