MOSCOW (Sputnik) – On Thursday, US media reported that the two brothers, who carried out suicide-bomb attacks in Brussels on Tuesday, have been listed in US databases of potential terror threats.
Sky News said on Thursday that a third unidentified suspect seen in surveillance images together with the two brothers and believed to be on the run is also on the US terror watch list.
On Tuesday, two suicide attacks took place at the Brussels Airport departure hall in the northeastern municipality of Zaventem and another explosion at the Brussels Maelbeek station near EU institutions. At least 31 people were killed and 300 were injured in the attacks.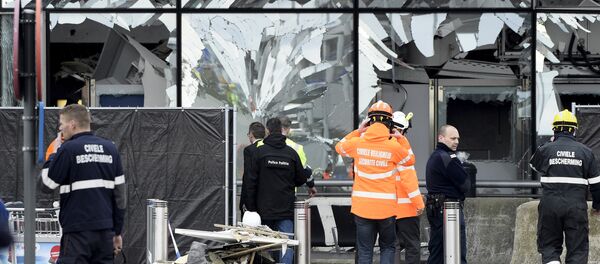 On Wednesday, Belgian Federal Prosecutor Frederic Van Leeuw identified the Maelbeek suicide bomber as Khalid Bakraoui, and said his brother Ibrahim was one of two perpetrators of the blasts in Zaventem. Both of the brothers are believed to have been killed in the airport blast.
Belgian Interior Minister Jan Jambon said as cited by CNN on Thursday, that a third man, seen in surveillance images together with Ibrahim and Khalid, is believed to still be at large. According to Jambon, the man placed a third bomb at the Brussels airport and left. The bomb did not go off in the attacks and was detonated by authorities in a controlled explosion.
Some reports have suggested that the third man in surveillance images could be Najim Laachraoui, a suspect in the deadly Paris attacks that took the lives of 130 people and injured some 350 in November 2015.
Daesh jihadist group, outlawed in many countries including Russia, has claimed responsibility both for the Paris and Brussels attacks.
The Brussels attacks came days after police arrested Salah Abdeslam, a suspect in the Paris attacks.