MOSCOW (Sputnik) – The Emirates pilots' comments come amid a crash of Flydubai Boeing 737-800 at Russia's Rostov-on-Don airport on March 19, in which all 62 people on board died. Following the crash, a former pilot of the low-cost Dubai-based airline, who wished to remain anonymous, told RT that Flydubai forced pilots who complained about overloaded schedules and fatigue to quit.
One of the Emirates' pilots told RT in an interview published Friday that the airline deliberately miscalculated the time that a pilot spent at work. The reporting time is calculated from the moment of check-in, which is one hour before take-off, but the crew actually arrives at work about two hours prior to departure time, because they need to go through standard airport procedures and attend cabin crew briefings, the pilot told RT.
"If you look at the duties the pilots go through … then an extra hour is really a lot and it makes flights illegal, as the overall workload is a lot more than it should be," the pilot said.
Another pilot told RT that crew members refrain from filing complaints as they do not bring any changes.
"[Pilots] don't get enough time to sleep and they [have no one to appeal to]. The company will not listen to them – they will punish them if they get sick. And the aviation authority will not accept any calls from pilots," the pilot claimed.
The United Arab Emirates General Civil Aviation Authority (GCAA) only makes the problem of overwork worse and complaint reports are usually "covered up," another former Emirates pilot told RT.
The pilot explained that "the aviation authority is controlled by the same people who are in charge of the airline," RT said.
Pilots have been leaving their jobs at Emirates Airline in increasing numbers, a former pilot told the broadcaster, so the remaining pilots face more workload.
"The airline wants to use the pilots to their maximum, because pilots cost money. So they want to save that money and just exploit the pilots," a former Emirates pilot told RT.
"Emirates strictly adheres to the state-approved flight time limitations (FTL) scheme. We never compromise safety and always operate within the legal regulatory requirements with regard to flying times, operating hours, and layover times in between flights for our pilots. We regularly require all pilots to undergo medical assessments, covering both physical and psychological aspects, as part of their medical renewal process. We also have a proactive Fatigue Management and education process. Emirates also encourages open dialogue and has systems in place to facilitate that and in fact we have an open forum for pilots to engage with the management team to voice their concerns," the company's press service told Sputnik.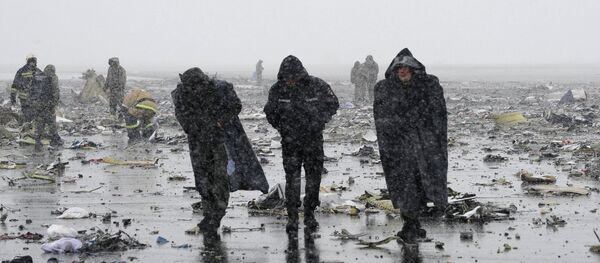 The former Flydubai pilot that had spoken to the broadcaster on Tuesday on condition of anonymity claimed he had managed to obtain the schedule of the crashed Flydubai Boeing 737-800 co-pilot Alejandro Alava Cruz, which showed that Cruz had only one day off for 11 days of work. A Flydubai representative refuted the information saying that the carrier's Safety Management Systems (SMS) encouraged pilots to declare themselves unfit to fly when they felt that they did not get enough rest.