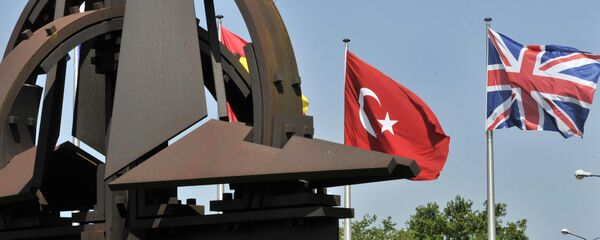 MOSCOW (Sputnik) — US Republican presidential candidate Donald Trump has called for an alternative organization to NATO that would focus on tackling the terrorist threat and rely less on US funding.
"I actually think in terms of terror you may be better off with a new institution, an institution that would be more fairly based, an institution that would be more fairly taken care of from an economic standpoint. You have many wealthy states over there that are not going to be there if it's not for us, and they're not going to be there if it is for terror. Whether it's Saudi Arabia or others," Trump said during Saturday's interview with The New York Times newspaper.
Trump has been vocal about his views on changing US foreign policy in the course of the ongoing Republican Party presidential primaries ahead of the 2016 US presidential election. On Thursday, the Republican frontrunner said that the time is right for the United States to renegotiate its NATO membership.
Trump expressed doubt in the current US administration's policy over the conflict in Ukraine. The events have a negligible effect on the United States, Trump told the newspaper, stressing that the confrontation with Russia over the issue amid indifference by Ukraine's immediate neighbours has been unfair and illogical.
In 2015, the United States paid nearly 75 percent of NATO's budget, according to data compiled by the European Leadership Network.