Havana has had enough experience with the Monroe Doctrine to know that Washington's goal will always be to gain the upper hand over Cuban policies and turn the country into yet another subservient state, Dady Chery, a Haitian-born journalist, author and scientist writes in her article for News Junkie Post.
"Even as the US courts Cuba, the US' intention is clearly a Bay of Pigs invasion with a smile. The Cuban Revolution has enormous symbolic importance for people throughout the world who are fighting US domination, and the undoing of this revolution would be a major psychological blow," Chery underscores.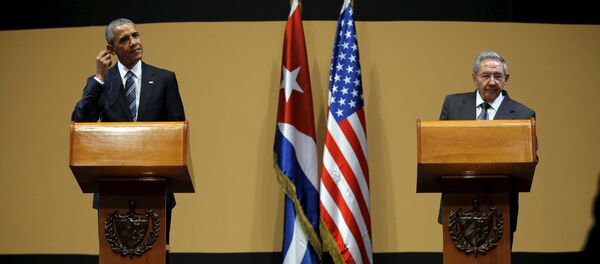 "The US is already hinting that it wants popular elections that it can manipulate. In a March 22 speech, the US president stressed that 'Cuba has a one-party system, [but] the United States is a multi-party democracy.' This is quite laughable, given the subservience of both US parties to the same business concerns, and the charade that currently passes for an election in the US," she notes.
Barack Obama's historic visit to Cuba turned the spotlight on obstacles and hurdles in the way of a US-Cuban thaw. The visit was nothing of a "triumphant march." Havana clearly signaled that it is not going to "surrender" to global hegemon.
During the meeting with Obama, Cuban President Raul Castro emphasized that Washington should abandon its base at Guantanamo and lift the embargo on Cuba.
Che Guevara and Fidel Castro
Castro added that there are "profound differences that will not disappear over our political model, democracy, human rights, social justice, international relations, peace and stability."
While Havana is ready to discuss opening Cuban markets to the US, it wants equal access to the US market, Chery notes.
"Currently, Cuba holds more than 30 patents in the area of biotechnology, which is its main export. It manufactures more than 800 products for the health needs of Cubans, for whom it provides universal medical coverage. Cuba would like to sell its biotech products in the US and conduct the requisite clinical trials of Cuban products with US patients," she underscores.
The journalist calls attention to the fact that despite the US sanctions, Cuba has become largely self-sufficient over the past decades.
"Although Cuba has complained for decades about the harm from the embargo, it is no longer a country without its own toilet paper or medications, but one that has painfully built its own economy," Chery points out.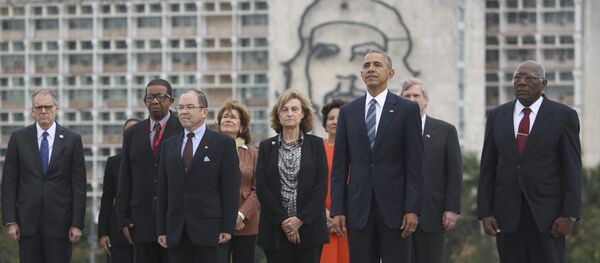 Incredible as it may seem, Cuba has developed its own software products, including computer games, cell-phone platforms, and specialized software for the health sector.
The country is also inclined to expand its tourism business.
Havana is ready to open its doors to Washington but only if the latter would treat Cuba as an equal partner, not yet another vassal state.
"The new wave of colonists wants to be in place now because they think that their work to undermine the Cuban Revolution will become easier after Cuba's great hero Fidel Castro dies," Chery notes, adding that US policymakers underestimate the importance of independence and sovereignty Cuba has gained through hardships and sacrifices.
"As ever, the Cuban revolution thrives while under attack; one can only hope that it will never imagine it is not," the journalist concludes.