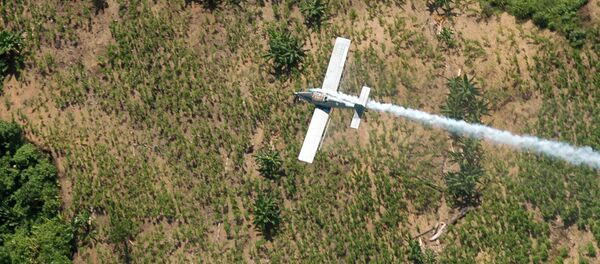 28 January 2016, 19:05 GMT
The data was obtained by Reverend Billy and members of the Coalition Against Poison Parks (CAPP) from the New York City Parks Department.
According to the World Health Organization, glyphosate is a "probable carcinogen" linked to non-Hodgkin's lymphoma and other cancers, birth defects, and celiac disease, allergies, asthma, chronic fatigue syndrome.
At a meeting Tuesday, Mitchell J. Silver, Commissioner of the New York City Department of Parks and Recreation was presented with the map by members of CAPP.
Monsanto has long fought claims that their product is harmful, despite documentation to the contrary. In January, the corporation sued the state of California to prevent glyphosate from being added to the state's list of known carcinogens.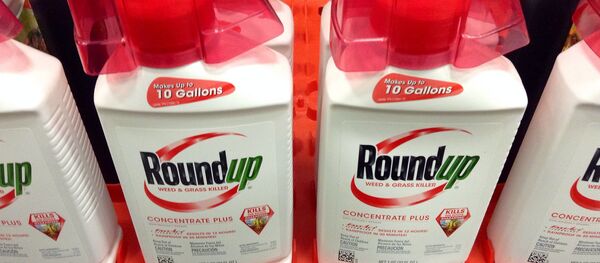 28 August 2015, 23:34 GMT
A listing would require Monsanto to provide a "clear and reasonable warning" to consumers that the chemical is known to cause cancer, further damaging Monsanto's reputation and violating its First Amendment rights, the company said.
"New York City should join Ireland, Sri Lanka, The Netherlands, Bermuda and a growing list of cities, including Chicago IL, Takoma Park MD, Richmond CA, Vancouver BC, and Paris, and ban glyphosates," a petition titled "Stop the Spray" reads.
A report from EcoWatch found that the use of Roundup in New York City has doubled since 2013, and, until now, not all of the parks where it is in use were publicly disclosed, including New York City's Central Park.
The weed killer grossed Monsanto some $4.8 billion in 2015, and has been the subject of multiple lawsuits alleging that the company has known the dangers of glyphosate for decades.