WASHINGTON (Sputnik) – Russia's offered gas price for Ukraine is $185 per 1000 cubic meters while Kiev can buy it from Europe at some $170, Ukraine's Minister of Energy and Coal Industry Volodymyr Demchyshyn told Sputnik on Thursday.
"We can buy this gas from Europe at about $170. Russia offers us [to buy gas] at $185 [beginning April 1], Demchyshyn said on the sidelines of the Nuclear Security Summit in Washington, DC. "Even at $185, it is better for us to buy gas from Europe. At the technical level it is obvious… They [the Russian side] can calculate that."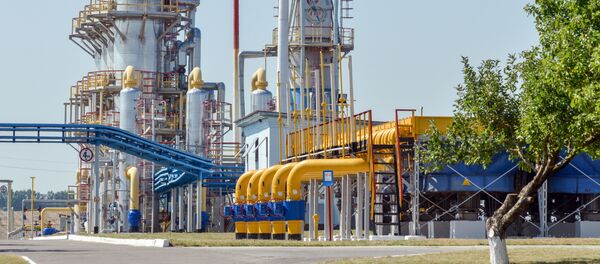 Russia provided a quarterly gas discount for Ukraine last year at the request of the Ukrainian side. In the first quarter of 2015 the price of gas for Ukraine, taking into account the $100 discount, was $329 for 1,000 cubic meters, in the second — $247.18, in the third — $247.17. For the fourth quarter the discount was $20 and the price of gas was $227.36 for 1,000 cubic meters.
The discount was agreed upon as part of the "winter package" deal between Russia and Ukraine signed in 2015. It expired on March 31.
In October 2015, Ukraine's energy company Naftogaz said that the country was completing the purchase of gas from Russia's energy giant Gazprom, and the decision to continue to import gas from this supplier would depend on the price. The following month, Ukraine halted purchases of Russian gas, saying the pricing offered by its European partners was much lower than that offered by Moscow.