The Syrian Army published on one of its YouTube channels a video taken near the town of Al-Qaryatayn. On April 3, the Syrian Army and its allies backed by Russian airstrikes fully liberated Al-Qaryatayn from Daesh militants.
The footage shows at least three helicopters firing unguided missile at terrorist targets.
Previously, Ka-52 helicopters were engaged during the second war in Russia's Chechen Republic. In 2001, several helicopters were deployed to Chechnya.

The Ka-52 Alligator (NATO Designation Hokum-B) is a next-generation reconnaissance and combat helicopter designed to destroy tanks, armored and non-armored ground targets, and enemy troops and helicopters both on the front line and in tactical reserves. It can be used both in reconnaissance and combat missions.
The helicopter can operate around the clock and in all weather conditions. The Ka-52 can provide target acquisition and designation for helicopter teams and ground troop command and control centers. It can also provide fire support for troop landings, fly routine patrols and escort military convoys.
The Ka-52 is equipped with a 30mm automatic cannon, and can also carry laser-guided anti-tank missiles, short-range air-to-air missiles and other missiles or bombs.
The helicopter can travel at a speed of over 180 miles (290 kilometers) per hour and reach an operational ceiling of nearly 3.5 miles (over 5,000 meters).
© Sputnik
The Kamov Ka-52 Alligator/Hokum-B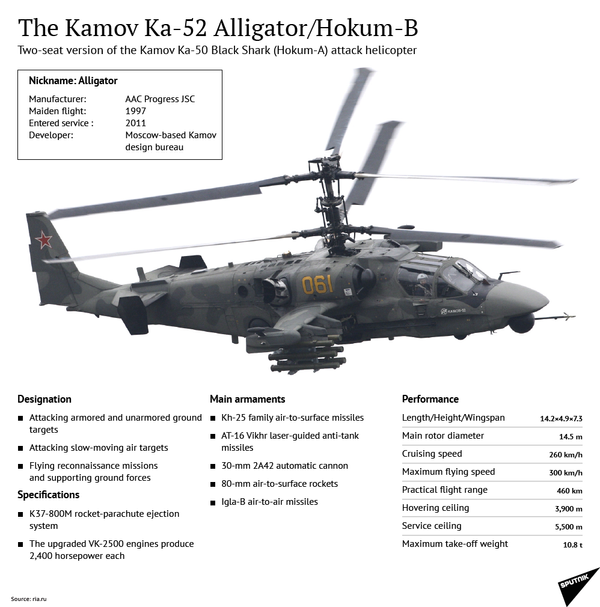 The Kamov Ka-52 Alligator/Hokum-B
The Ka-52 Alligator is a 2-seat version of the Ka-50 which uses a side by side layout common to transport helicopters instead of the front-and-rear layout common in attack helicopters.
On March 31, the Russian Defense Ministry published a video showing combat use of Mi-28N attack helicopters. In the video, helicopters fired anti-tank missiles against terrorists' armored vehicles near Palmyra.