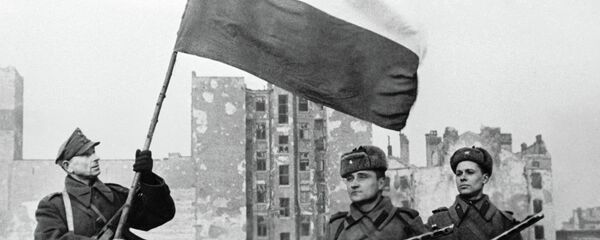 MOSCOW (Sputnik) — Russia should protect the historic truth behind the crucial role played by the Soviet Union in the victory over the Nazis in World War II from any attempts to diminish it, Russian President Vladimir Putin said on Tuesday.
"We have to consistently uphold historical truth… We need to prevent any attempts to defame, to falsify the past, including [efforts] to diminish the critical role of our country in the defeat of Nazism," Putin said at a meeting of the governmental Pobeda (Victory) Organizing Committee.
According to the Russian president, preventing such falsification of historical facts is one of the Victory Committee's most important areas of responsibility. He added that this effort should also be an important goal for the foreign ministry and public educational research organizations.
Relations between Moscow and a number of Eastern European countries, such as Poland, have been strained by numerous demolitions and dismantling of Soviet monuments in the country. According to the Russian Foreign Ministry, officials in such countries have been trying to distort history and to belittle Soviet soldiers' contribution to the victory over Nazism in World War II.