KIEV (Sputnik) — On Wednesday, Dutch citizens participated in the referendum on ratification of the EU-Ukraine association deal. According to the Dutch RTL Nieuws broadcaster, 61.1 percent of the Dutch voted against the ratification, while the turnout was 32.2 percent.
"I would like to remind everyone that the true target of the people, who have organized the referendum — is not the association agreement between Ukraine and the European Union. It is an attack on the European unity, an attack on the European values' spreading. The discussion that has been launched shortly before the referendum highlights it," Poroshenko said following the referendum.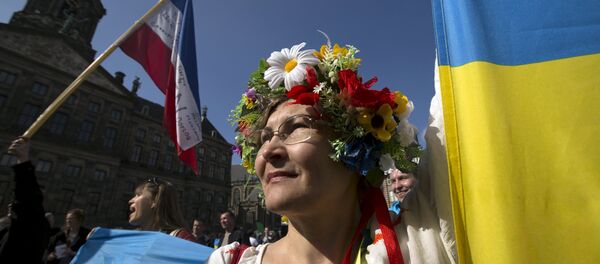 He added that the referendum was not binding and its result was not a hindrance to Ukraine's movement toward the European Union, because Kiev would continue to take measures aimed at closer integration with the 28-nation bloc.
In 2014, Kiev and Brussels signed an agreement aimed at Ukraine's political association and economic integration into the bloc.
The Netherlands is the only member state yet to ratify the agreement, which requires Kiev to implement vast reforms to meet the EU high economic, political and technical standards in exchange for market access.