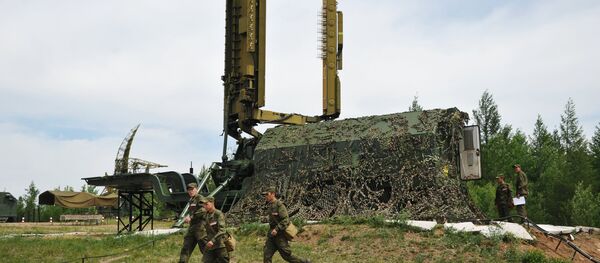 Lt. Gen. Pavel Kurachenko reminded reporters that an agreement on the joint protection of their shared airspace and the creation of a joint regional system between Russia and Belarus was signed and ratified in 2009.
Furthermore, Commander of the Belarusian Air Force and Air Defense Maj. Gen. Oleg Dvigalev has been appointed commander of the joint regional air defense system.
In an interview with Radio Sputnik, Belarusian defense expert Mikhail Khodaryonok said that a joint air defense system for the CIS countries has been in place since 1995 and that Belarus and Russia have come a long way in upgrading it.
"The air-defense system we have now has put our joint defense capability on a whole new level. Protecting a common airspace is easier as we obtain all necessary information at an early stage which gives us time for adequate response," he said.
Mikhail Khodaryonok said that similar joint air defense zones could eventually appear with other countries as well, noting that, nevertheless, it was unlikely to happen any time soon.
"This should not be done in a hurry. During the 1990s the newly independent [former Soviet republics] avoided any military-technical cooperation and joint military training, considering it to be challenges to their sovereign status. This attitude is now changing though, which is why I believe this is something we are eventually going to come to," he added.