"…The Kurds became the victims of this attack and apparently dozens of them were injured and killed," Xulam tells Loud & Clear, referring to a chemical attack against Kurdish communities in Aleppo, carried out by a group known as the Army of Islam.
Kurdish groups like the YPG, uniformly hailed as one of the most effective ground forces fighting Daesh, are excluded from the Geneva peace talks, but the Army of Islam is included in the peace process.
Despite this inclusion, the Army of Islam seems to be using its position to carry out attacks against the Kurds.
"The goal is to intimidate the Kurds, to silence the Kurds. They get their help from Turkey, from Saudi Arabia, from Qatar, and Turkey's biggest fear is the Kurds…" he says.
According to Xulam, the Army of Islam's recent attack was directly authorized by Turkish President Recep Tayyip Erdogan.
"[Kurds] feel that Erdogan wants to forever silence them, forever bring them to their knees, and he's attacking them inside Turkey with his own army and he's attacking them inside Syria with the help of his proxies."
Ankara's support of terrorist groups in Syria also furthers the Turkish aim of eliminating Syrian President Bashar al-Assad.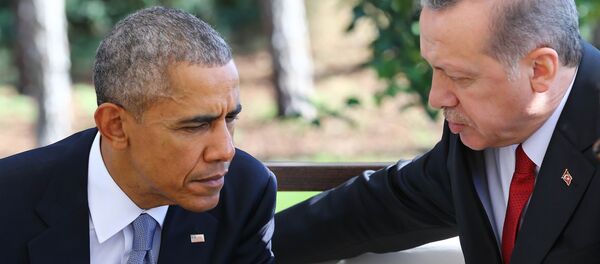 "18-wheelers [are] taking guns, missiles, all kinds of weapons to Syria and supporting these Islamist groups," Xulam says, describing the Turkish government's arms shipments to Syrian opposition groups.
"Erdogan has a deep dislike of Assad. He wants Assad to be toppled."
Despite the fact that Turkey is a key ally of the United States and represents the eastern flank of the NATO alliance, Erdogan has become increasingly dictatorial. It's hard to imagine that his actions are done without complicit acceptance by Washington.
"…Erdogan has consolidated his power and become an absolute ruler," Xulam says. "Right now you cannot say there is freedom of speech in Turkey. You cannot say there is an independent judiciary in Turkey…
"This is what Obama deals with, but Obama doesn't seem to think that he should curb him," he adds. "[Obama is] allowing [Erdogan] to do whatever he wants."