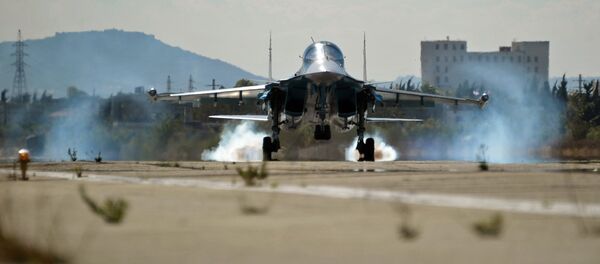 MOSCOW (Sputnik) — Amman is conducting consultations with Russian manufactures on acquiring a small number of Su-32 (export version of Su-34) fighter-bomber jets, local media reported Monday, citing officials working for Russian aircraft producers.
"We hope that the interest will lead to pre-contract negotiations in the near future," the Russian official told the Kommersant newspaper.
However, Jordan has not filed any official purchasing order yet, the Russian media outlet added.
In late March, the Russian state arms exporter Rosoboronexport said Russia's anti-terror air campaign in Syria had raised the popularity of the Su-34 fighter-bombers, which several Middle Eastern countries were interested in buying.
Russia has also been carrying out negotiations with the Jordanian side for the supply of several Mi-26 helicopters used both for military and transportation purposes, according to a source in Russian Federal Service for Military-Technical Cooperation.