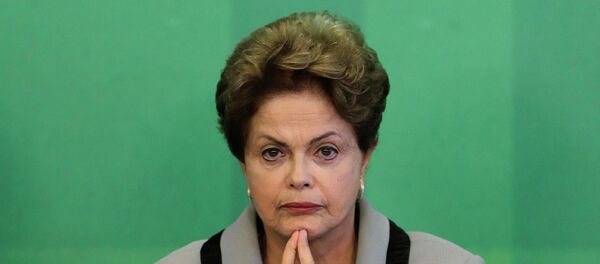 MOSCOW (Sputnik) — On Monday, a committee of Brazil's lower house approved a report recommending the impeachment of Rousseff.
"I don't believe that the Brazilian president should face impeachment because for me it is clear that there is no substance that allows to face it," Samper, a former present of Colombia, said.
Samper expressed his concern over "the difficult governance that generates this politically motivated situation," hoping that this crisis "is handled within the standards of rule of law established by the constitution."
Rousseff has been facing a wave of public discontent for over a year amid Brazil's struggling economy and a major corruption scandal in the state-owned Petrobras petroleum company. Lower house lawmakers supported impeachment procedures against Rousseff early last December.
In late March, the Brazilian Democratic Movement Party left the governing coalition, leaving the president with even fewer allies.