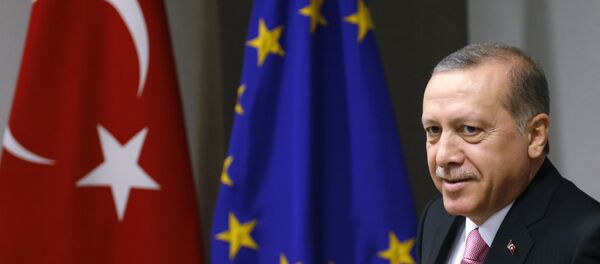 On March 31 German satirist Jan Bohmermann broadcast a sexually explicit satirical poem about Recep Tayyip Erdogan during his comedy show on German public broadcaster ZDF, called "Defamatory Poem." 
The Turkish President employed a German lawyer to present Bohmermann with a declaration of discontinuance, which calls for the comedian to never repeat the poem or start circulating it again.
Bohmermann refused to sign the declaration, and German public broadcaster ZDF has also defended the legality of Bohmermann's poem. On Wednesday Cologne police announced that Bohmermann is being provided with police protection after threats to his safety.
Erdogan also personally pressed charges against Bohmermann for insulting him personally and as a foreign head of state, which is possible according to section 103 of Germany's criminal code. 
Merkel took the decision to allow the investigation against Bohmermann to proceed in spite of opposition from coalition politicians including Foreign Minister Frank-Walter Steinmeier and Justice Minister Heiko Maas. She said that the little-used paragraph will soon be repealed, and several opposition parties have also called for it to be scrapped. 
​Islamic scholar and political scientist Ralph Gadban told Sputnik that Bohmermann's prosecution is a dark day for Germany, while satirist Tim Wolf welcomed Merkel's decision as good for satire.
"Nobody could have imagined how far Germany's dependence on Turkey would go," Gadban said.
"But this is what strikes me: Mrs Merkel is supporting a criminal investigation, while at the same time maintaining that section 103 is unnecessary and will be abolished during the course of this parliament."
"In this way she is trying to keep everybody happy – those who are for and those who are against. Such an opportunistic position is typical for her. She thinks that by holding vague positions she can enlist the support of all voters," Gadban said.
"This is a black day for Germany because the executive power took such a decision. The SDP was against it initially, and Merkel pressed her position."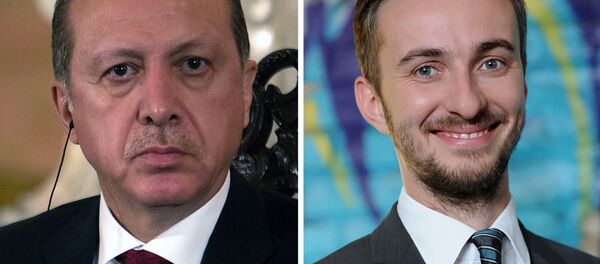 Gadban believes that Merkel's decision is particularly worrying from a European point of view, since bowing to repressive tendencies will aid right-wing elements within EU countries.
"In Europe we have a serious problem with right wing forces, which have won elections in some countries and continue to undermine states' democratic constitutions."
"Germany's word is weighty in Europe, but after this case Germany cannot influence what is happening. Merkel's position is enabling the further destruction of Europe, following her previous decisions about Greece, about open borders. Now this antidemocratic position is also enabling that (destruction), and Merkel can no longer put pressure on Hungary, Poland or other countries," Gadban said.
Tim Wolf, the editor of Germany's Titanic satirical magazine, told Sputnik that he expected the decision, which exposes Merkel's political affinity with Erdogan.
"I think this decision is absolutely correct. It is very good that Angela Merkel's stance on satire is approaching that of Mr. Erdogan's and the other despots of this world," Wolf said.
"In this way satire becomes very dangerous, that is very good. That is good for us, and good for Germany. It's the right decision."
"We have taken the decision to insult all world leaders in our next issue, so that Erdogan does not feel special. We are happy that there is opposition, because satire only becomes valuable when somebody has something against it," Wolf said.