MOSCOW (Sputnik) – The United States needs to bring its Turkish partners to their senses, who are still blocking the participation of Kurds in the intra-Syrian talks, Russian Foreign Minister Sergei Lavrov said at a press conference in Moscow Monday.
The Russian, Indian and Chinese foreign ministers held a meeting in the Russian capital on Monday to discuss conflict settlement in the Middle East, Ukraine and Afghanistan and the fight against terrorism.
"The main task here [at the intra-Syrian talks in Geneva] right now, and this is no secret and we've always said this, is the provision of an actual representative opposition delegation. This presupposes for our American partners to simply bring their Turkish allies to their senses who continue to single-handedly block the delegation from the Kurdish Democratic Union Party from joining the negotiations."
The United States is not influencing the Syrian opposition to withdraw from the battle zone despite its promises to do so, Lavrov said.
"The Americans have assured us many times over that they are doing this, that they'll use their influence on the moderate opposition so that they withdraw their troops from these regions [where terrorists are fighting] so as not to create any difficulties in the collective fight against al-Nusra Front. These promises still remain unfulfilled."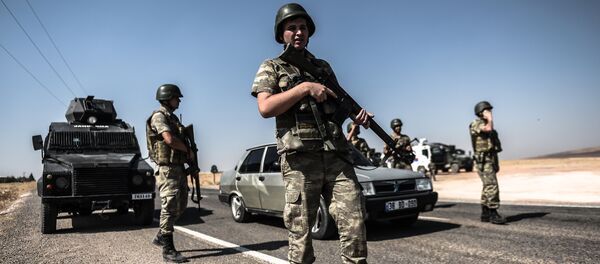 The United States had previously raised the issue of Nusra Front positions interjected with moderate opposition-held areas, Lavrov added.
Syria's moderate opposition groups are part of the ceasefire that took effect on February 27. The ceasefire does not apply to terrorist groups operating in the country, including al-Nusra Front and Daesh, both of which are outlawed in many countries, including Russia.
The new round of intra-Syrian talks began in Geneva on April 13. According to UN Special Envoy for Syria Staffan de Mistura, this round of talks is focusing on Syria's political transition, governance, and the constitution.