According to Oleg Sienko, the plant had previously produced a robotic fire engine based on the workhorse T-72 battle tank.
The first batch of Armatas driven by a 1,350 horsepower engine is currently undergoing field trials.
"A remote-controlled Armata is a tank of the future, no doubt about that. We and people in the military are absolutely positive about this," Sienko added.
He said that if ordered, a robotic Armata would not take long to make.
"Even the Armatas we showcased on Red Square last year can be refitted to become remote-controlled, to become robots," Oleg Siyenko said.
"Russia also plans to develop its tank support fighting vehicle dubbed the Terminator-3 on the basis of the country's latest Armata tanks," Oleg Sienko, said.
"We will [produce them].We have a concept for developing vehicles on the basis of the Armata platform," Sienko said in an interview with RIA Novosti.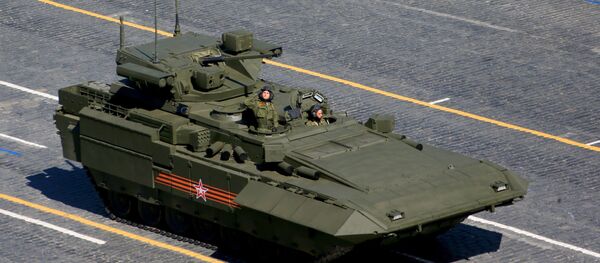 The top manager also added that the common platform would allow for parts from the different types of vehicles to be standardized for ease of repair.
At the moment, Uralvagonzavod produces both Terminator and Terminator-2 tank support fighting vehicles based on the chassis of the T-72 tank.
Such vehicles can be used to destroy enemy tanks, infantry and other armored assets, according to company's website.
The tank is three times cheaper than the best foreign analogues, Oleg Sienko said.
"Armata today costs three times less than [US-made] Abrams, [German-made] Leopard and [French-made] Leclerc. Exactly three times, but its potential is significantly higher," Sienko told RIA Novosti.
The Armata was unveiled at the May 9 Victory Day military parade in Moscow in 2015. The tank is housed in an armored capsule at the front with a main armament of a 125 mm smoothbore cannon and a 7.62 mm remote-control machine gun.