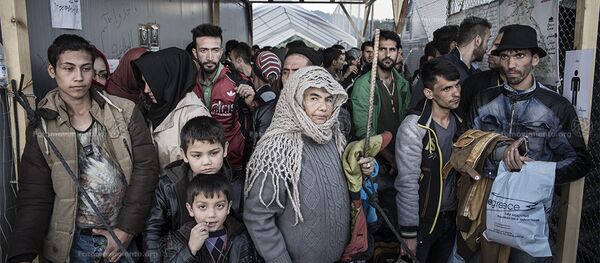 ANKARA (Sputnik) — Turkey will not fulfill the Ankara-Brussels migration agreement if the European Union fails to meet its obligations to provide a visa-free regime for Turkish citizens, Turkish Prime Minister Ahmet Davutoglu said Tuesday.
"Turkey is a serious partner. It does what it has promised, and will not allow concessions on the implementation of what has been promised…These obligations are mutual. If the European Union is not capable of taking the necessary steps, it is impossible to expect that Turkey will take steps in its turn," Davutoglu said at a press conference, adding that Turkey was unlikely to meet its obligations under the deal without the visa-free regime.
In March, Brussels and Ankara agreed on a deal under which Turkey pledged to take back all undocumented migrants who arrive in the European Union through its territory in exchange for asylum seekers from Syria, on a one-for-one basis.
In return, the European Union pledged to provide a total of 3 billion euros (over $3.3 billion) to Turkey to help it provide for the refugees there, with a further 3 billion-euro provision possible, as well promising to accelerate Ankara's EU accession bid and introduce a visa-free regime between Turkey and Europe.