ATHENS (Sputnik) – Former parliamentary speaker Zoe Konstantopoulou introduced a new left-wing political party in Greece, named Course to Freedom, on Tuesday.
"We are embarking on a course to the future. We are beginning our collective struggle for the liberation of our people and our homeland from the shackles of memoranda," Konstantopoulou announced at a launching ceremony.
The Course to Freedom party's symbol is a purple boat with four blue sails. Konstantopoulou first revealed the party in an April 15 Facebook post.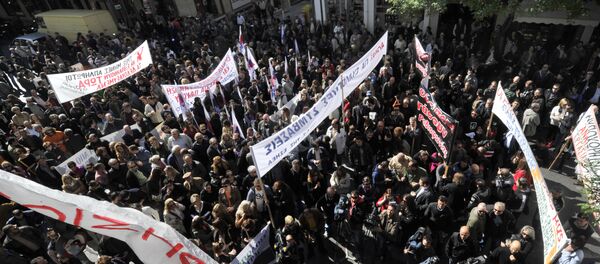 The influential politician split from Prime Minister Alexis Tsipras' Syriza party, citing her disagreement with the unpopular August 2015 third multibillion-dollar bailout agreement with Greece's international and European lenders.
Political observers say the Course to Freedom is unlikely to pass a 3-percent parliamentary threshold in the next elections unless it forms a coalition with other left-wing factions.
Former Syriza left wing leader and founder of the Popular Unity party, Panagiotis Lafazanis, has voiced readiness to join forces with Konstantopoulou's party.
The Course to Freedom's six-point program calls for justice, transparency, debt forgiveness and the recovery of World War II-era debts from Germany through courts.