GENEVA (Sputnik) — The Syrian opposition's Riyadh-backed High Negotiations Committee (HNC) urges the international community to stop talking and achieve concrete results, HNC chief negotiator Mohammed Alloush told Sputnik on Tuesday.
"We are seeking practical and concrete results. We do not want further talks on cessation of hostilities and blockade, as well as the release of detainees," Alloush said.
On Monday, US President Barack Obama and Russian President Vladimir Putin held a phone conversation to discuss cessation of hostilities in Syria and provide access to humanitarian aid.
Last week, HNC head Asaad al-Zoubi said he had discussed the release of all detainees in the country with UN Special Envoy for Syria Staffan de Mistura.
HNC Blames Damascus for Escalation, Ceasefire Violations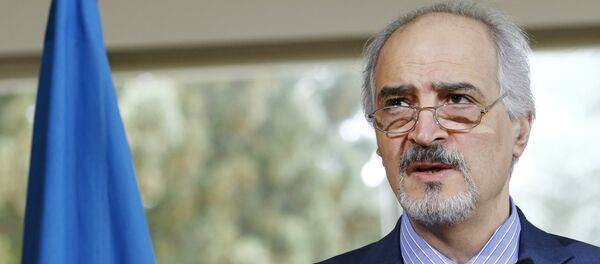 HNC places blame for escalation of the situation in the country on the Syrian government, Mohammed Alloush told Sputnik.
Earlier in the day, Bashar Jaafari, the head of the Damascus delegation at the intra-Syrian talks in Geneva, told Sputnik that Riyadh-backed HNC bears responsibility for the increase of violence in Syria.
"If you count the violations [of the ceasefire] that Jaafari and [Syrian President Bashar] Assad committed than you will have about 2200. If we divide them by a minute, than we'll have two violations each hour and 70 airstrikes per day. This is escalation in Syria," Alloush said.
On February 22, Russia and the United States brokered an agreement on a ceasefire in Syria. The UN Security Council unanimously adopted Resolution 2268, endorsing the Russia-US agreement on the cessation of hostilities in Syria. The ceasefire took effect on February 27. It does not apply to terrorist groups operating in the country.