The details of the proposed deal were discussed late last year by Russia's Deputy Prime Minister Dmitry Rogozin and his Chinese counterpart, Wang Yang, in Irksutk where the two also discussed space, satellite navigation and other topics.
"Our Chinese partners want the technology of building oxygen-kerosene rocket engines. In exchange they are ready to share with us their knowhow about electronic components used in spacecraft construction," the official said.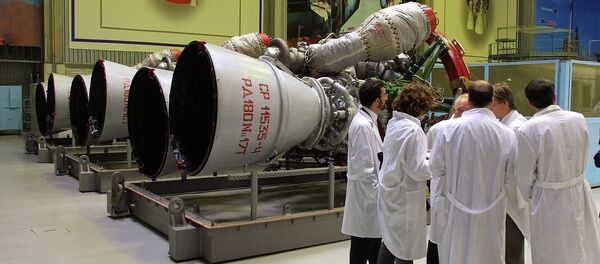 He added that while Russia remained an internationally-recognized leader in the field of liquid-fuel engines, the Chinese were still unable to copy the most advanced US technologies, that's why he did not think the proposed exchange made any sense.
This opinion is fully consistent with the official position of the Russian space agency Roscosmos.
"Unlike Russia, China never signed up to the Missile Technology Control Regime and we are now working with our Chinese colleagues to bring all these issues in line with existing international accords. We hope to find a mutually-acceptable solution before this year is out," Roscosmos said in a press —release earlier this month.
In 2014 China showed interest in producing Russian rocket engines on its territory and also in obtaining Russian knowhow in missile defense systems and the construction of heavy-duty helicopters.
In exchange, Beijing offered electronic components used in spacecraft construction, which Russia needed after the United States banned their sale to Russia as part of the international sanctions imposed on Moscow.
Russia and China are also discussing closer cooperation in space navigation (GLONASS and BeiDou), long-distance mapping of the Earth's surface and lunar research.