On Tuesday, Turkish President Recep Tayyip Erdogan's crackdown on dissent again targeted Russian media outlet Sputnik News Agency.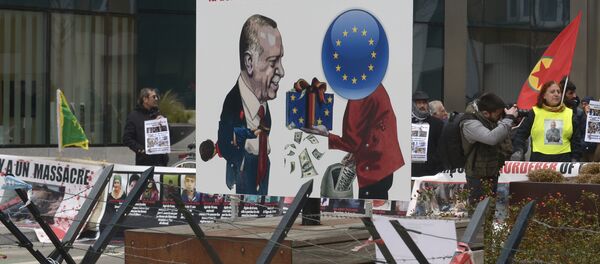 One week after Ankara abruptly blocked Sputnik's Turkish language website, the media outlet's Turkish bureau chief, Tural Kerimov, was blacklisted and deported from Turkey.
The deportation of Kerimov, an internationally accredited journalist, is the latest in a string of authoritarian actions by an increasingly dictatorial Turkish President Erdogan. In recent months, there have been many incidents of the use of unnecessary force, including Erdogan's security detail's assault on US protesters during a visit to Washington. Turkey's leadership has also been implicated in a false flag sarin gas attack in Syria that almost led the US into war. Erdogan's administration has been engaged in frequent arms and oil trade with Daesh terrorists in Syria, and dissenting voices have been attacked in the street or imprisoned.
On Wednesday, Loud & Clear's Brian Becker sat down with CIA-analyst-turned whistleblower John Kiriakou to talk about Turkey blacklisting Kerimov and the country's dangerous devolution into theocratic fascism under an increasingly paranoid Erdogan.
​What is the significance of Turkey's expulsion of Sputnik journalist Tural Kerimov?
"I think that Kerimov's deportation and expulsion is part of a much bigger and much deeper problem in Turkey," explained Kiriakou. "What we have been seeing over at least the last six years is really a descent into authoritarianism, a descent into even fascism in Turkey, aimed at journalists, peace activists, and cultural and religious minorities."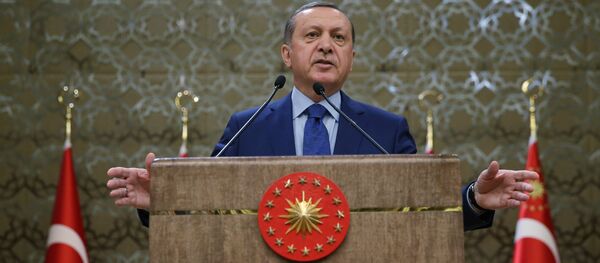 Kiriakou stated that recent developments inside Turkey are reminiscent of actions by the Ottoman Empire during the 1920s, seen by many as the dismantling of democracy in the Middle Eastern country. Erdogan has made no secret of his ambitions to resurrect the former Ottoman Empire, by force if necessary.
Why did Erdogan single out Sputnik Turkey of all accredited international media working in the country?
"Sputnik is a legitimate, internationally recognized and accredited news outlet," stated Kiriakou. "I think that Erdogan personally feels threatened by freedom of information, and I think that he is angry about Russian involvement in Syria, so he is going to take this petty action."
Would you call the expulsion of Sputnik Turkey's editor-in-chief a political reprisal?
"Yes, I think that's exactly what it is," said Kiriakou. "This points to Erdogan's international weakness that he has to take things out on an internationally accredited journalist."​
In a separate interview with Brian Becker, former CIA analyst George McGovern reiterated Kiriakou's concerns: that Turkey is devolving into an authoritarian state sponsor of terrorism, where democracy and journalistic freedom are no longer the accepted norm.
​McGovern spoke at length about Turkey's orchestration of a false flag sarin attack on August 21, 2013, in Damascus, that was wrongly attributed to the Syrian regime of Bashar al-Assad. The incident, on the heels of President Obama calling the use of chemical agents by the Syrian government a "red-line," almost led the US into a war under false pretense.
The truth behind the incident was exposed by Turkish parliamentarian and journalist Eren Erdem, explained McGovern. Erdem was sentenced for treason by exposing Erdogan's crimes. Similarly, McGovern detailed the imprisonment of two separate Turkish journalists for speaking out against the Erdogan Administration's oil and weapons trade with Daesh terrorists in Syria.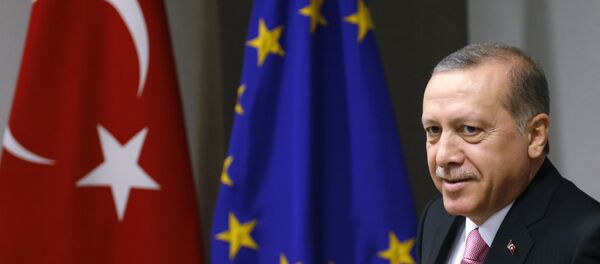 McGovern believes that while the Turkish government has spearheaded the effort, another driving force – the neoconservatives and US military-industrial profiteers – are involved in the effort. He speculated that Hillary Clinton led President Obama to draw the "red-line" on Syria, knowing it would soon be crossed, and suggesting that current Secretary of State John Kerry knew otherwise when, on August 30, 2013, he attributed the sarin gas attack in Damascus to Assad.