MOSCOW (Sputnik) – Former Soviet leader Mikhail Gorbachev said in an article published Wednesday that Western countries should launch a "perestroika" movement toward a more constructive relationship with Russia without isolating it.
"[Russian President] Vladimir Putin outlined willingness to normalize ties with the West during his latest Direct Line. Will our partners readjust to a more constructive wave? It is not yet clear, but I call on them to do so," Gorbachev wrote in the article published on the Rossyiskaya Gazeta newspaper's website.
Gorbachev, whose 1980s Perestroika market reforms paved way toward the emergence of independent republics after the Soviet Union, urged the West to "put aside emotions and the excesses of propaganda."
"It is time for the West to give up attempts to isolate [Russia]. It has never yielded results… Otherwise there will be no dialogue, no chance of restoring confidence," he stressed, noting that "everyone loses in a new Cold War."
According to Gorbachev, relief in tensions and improvement of relations between Moscow and Western countries will be a complicated process that would take a lot of time.
"The dialogue on Syria is underway but at the moment mostly the external parties, first of all Russia and the United States, are involved in it. It has already contributed to some easing of tensions between Russia and the West. If this momentum is maintained it should be extended to other spheres of relations. But it will be a long and difficult process, because the trust [between Russia and the West] has been harmed too much," Gorbachev wrote in the article posted on the Rossiyskaya Gazeta newspaper's website.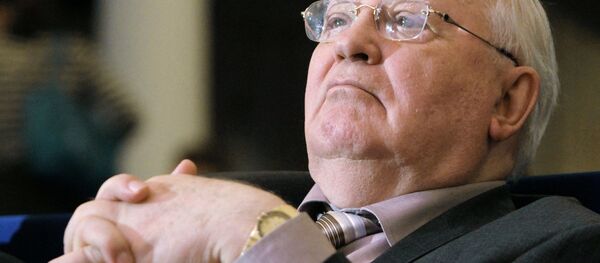 Relations between Russia and the West declined with the early 2014 Crimean referendum to join Russia and the Ukrainian government's military offensive against pro-independence militia in the eastern region of Donbas.
The United States and the European Union imposed sanctions against Russian individuals and Russian defense, energy and banking sectors in late July 2014. Russia responded by introducing a year-long food embargo on imports from the United States, the European Union and other countries that have targeted Russia, extending the current embargo until August 5, 2016.
Differences between Russian and Western viewpoints were confirmed earlier on Wednesday at the first Russia-NATO Council meeting in 2 years.