WASHINGTON (Sputnik), Liudmila Chernova – Turkey should overturn its decision to deny entry to the Sputnik news agency's Turkish bureau chief, as well as vow to uphold human rights, Executive Director of Canadian Journalists for Free Expression Tom Henheffer told Sputnik.
"This decision must be reversed, and Turkey's government must cease all activities against press freedom and all the unjustified persecutions and detainment of media workers in the country," Henheffer said on Wednesday. "It must also pledge to uphold human rights, especially the right to free expression, and press freedom."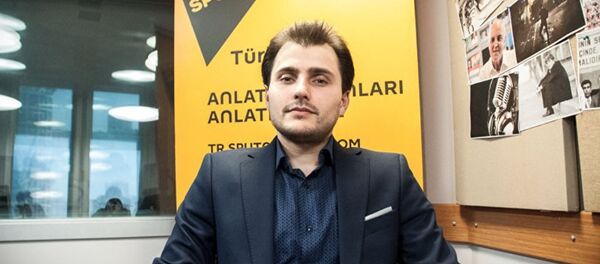 On Wednesday, the chief editor of Sputnik News Agency's Turkish bureau, Tural Kerimov, was denied entry to Turkey, stripped of his accreditation and residence permit in Turkey.
"It is unjustified and unfortunately just another instance of [Turkish President Recep Tayyip] Erdogan willfully denying press freedom in his country," Henheffer stated. "Turkey is rapidly slipping into authoritarianism and free expression is suffering dramatically as a result."
He added that the latest incident is part of a "very troubling trend that has already gone too far."
"Democracy is on extremely shaky ground in Turkey as a result. Unfortunately, I think the current government there is all too happy to be slipping toward a dictatorship and that this could all very well end in disaster," Henheffer concluded.
Kerimov entry ban comes a week after Turkish authorities shut the agency's Turkish-language website, citing "administrative measures." On Tuesday, a TV journalist from the German public broadcaster ARD was also barred from entering, prompting criticism from the German government.
In March, Turkish authorities raided and seized control of the nation's largest independent daily newspaper Zaman. Fourteen local journalists were recently imprisoned on charges of espionage and aiding terrorist groups.
Turkey's crackdown on journalists and restrictions on freedom of speech have previously been criticized by the international community, including the United Nations, the United States, the European Union, Russia and the organization Reporters Without Borders (RSF). Turkey ranks 151th out of 180 countries in the RSF 2016 press freedom index.
Canadian Journalists for Free Expression is a Canadian non-governmental Toronto-based organization that monitors, defends and reports on free expression and access to information in Canada and abroad.