"There are journalists from different sectors of the opposition who are on trial. There are leftist people, liberals, communists from Kurdish movement, and even from rival religious sects who are opposing Erdogan," Okuyan tells Loud & Clear.
"But one of the most spectacular trials is related to two journalists, Can Dundar and Erdem Gul, who are accused of publishing information about trucks full of arms that were going to be delivered to jihadi groups in Syria."
In essence, the government of Turkish President Recep Tayyip Erdogan is punishing these reporters for "revealing" facts that were largely already known to the Turkish public.
"Starting from the beginning of the armed conflict in Syria, everybody [knew] that the Turkish government supported, in every means, the jihadi groups," Okuyan says. "This was general information and there was enough clear evidence.
"It was not the first time that those photographs were published. It is an interesting thing."
The Erdogan government has shuttered a number of media outlets, including Sputnik's Turkish bureau. Earlier this week, Sputnik Turkey's editor-in-chief Tural Kerimov was denied entry into the country, and both his passport and credentials were stripped from him.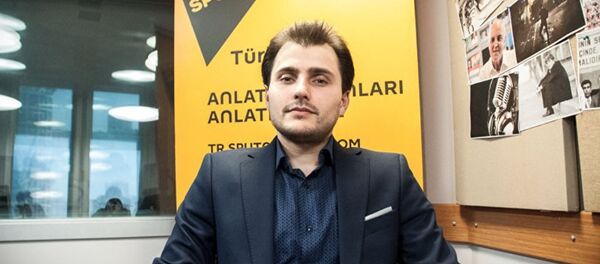 "There can be no legal reason to stop [Sputnik] from doing journalism," Okuyan says.
Writing for the Turkish newspaper Sol, Okuyan has had his own run-ins with the Erdogan government.
"I myself will [appear in] court on the fifth of May [for] insulting Erdogan. They charged me with five years, and have two other cases."
His fate will be not decided by jury, but by a judge. Okuyan's case is one of thousands who are facing prison for criticizing the president.
"There are 2,000 cases related [to] insulting Erdogan. Only three of them are related to me. There are elder people, even students, even children. This is ridiculous. I am a writer. I have been writing for many years and I have to criticize the government."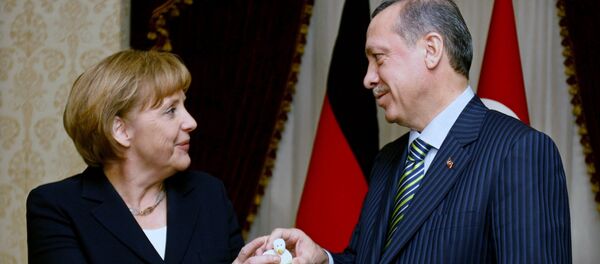 "This is something we cannot accept and we will not accept. We will continue to write this," he states. Similar to Sputnik, entire sections of Sol's online content have been banned.
Erdogan's crackdown extends beyond Turkey, as Ankara pushes to punish a German poet for insulting the Turkish president. Remarkably, German Chancellor Angela Merkel has gone along with Erdogan's request to prosecute.
"The problem is [that] two politicians, Merkel and Erdogan, are in trouble, and they are connected in this refugee problem. So I think that Merkel is under big pressure coming from the opposition in her country."
"Merkel cannot survive supporting Erdogan like this."